A PUSH TO YOUR PURPOSE
The Purpose Push is a business accountability experience for new or aspiring entrepreneurs who are serious about taking actionable steps to accomplish their goals, and find the momentum to graduate from concept to completion.
Success is as near as your purpose plan! No more sitting on ideas for month or years with no movement. It is time to maximize your moments and monetize your gifts.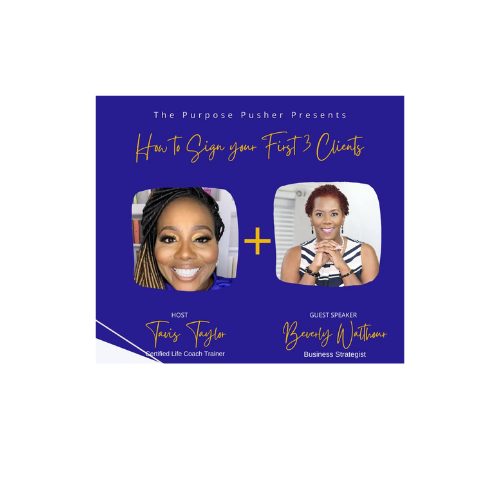 How to Sign Your First 3 or Next 3 Clients!
Let's face it: As coaches and solopreneurs, our clients are the lifeblood of our business. Without paying clients, our doors are closed and we're searching the online job listings.
But it's all too easy to fall into a comfort zone, where we have a full calendar of paying clients and we tell ourselves that we don't have another moment in our day to actually market our business.
Let's stop with those excuses once and for all! If you don't have a steady stream of prospects calling you for information about your coaching programs, you're not marketing. Lack of marketing spells disaster when a client decides they don't need coaching any more, for whatever reason.
Have you ever considered if more than one client left your service at the same time? Do you have a back up plan for recruiting another client (or three) quickly to take their place? Do you have a list of prospects just waiting in the wings for that phone call that a spot just opened up?
This course webinar will help you sign your first 3 or next 3 clients.
Available in days

days after you enroll

How to Sign Your First 3 Clients
Related Product
Learn how to create your online branded T-shirt business
Check your inbox to confirm your subscription